Ngipi Ward
Ngipi Ward; photo credit information unavailable at this time.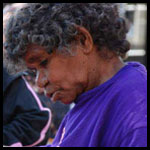 Kapitu Kapitu depicts a series of undergound water sites that belong to Ngipi's husband, which he and Ngipi used to travel between, "kapitu-kapitu, water to water. Yirrilngya, Patatanja--a large claypan, Tjangi--a site with four rockholes, Kutjarranya and Kurrutjiti--one deep hole with cold water. The Wandantjarri area feature a big, deep hold which Tingarri people (men, women & children) drank from and camped near. One time a wedge tailed eagle (Warlawurru) with a face like a man swooped down and took a young child (titji). That is part of the tjukurpa at this site.


USD $2100
Ngipi Ward lives in the small and very remote community of Patjarr, also known as Karilwara, in the Gibson Desert, Western Australia. She is a brilliant painter and her themes resonate with her upbringing in the bush and the abundance of desert life. She has had numerous exhibitions and is widely collected.
ART


(Click on link(s) below to see painting details.)
Additional artist information unavailable at this time