Ronnie Tjampitjinpa
Ronnie Tjampitjinpa © Mike Mitchell, Muk Muk Aboriginal Art, Alice Springs, NT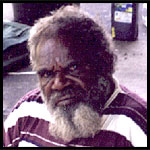 Ronnie's paintings represent important dreamings for the Pintupi people. These stories are associated with his ancestral country in Central Australia and relate to the early journey paths of the mythical Tingari Ancestors, which were created throughout the "tjukurrpa" or dreamtime. These mythologies form part of the stories that are passed on to the younger Aboriginal boys prior to initiation.


USD $9000
Ronnie was born around 1943 near Muyinnga, about 100 kilometres west of the Kintore Ranges in the Northern Territory. His family moved extensively throughout Pintupi Country living the traditional ways his people have lived for over 40,000 years.

Ronnie soon emerged as one of Papunya Tula's major artists. His work reflects his direct ties with his culture, retaining a purity that many other Aboriginal artists have not achieved. Ronnie's work follows the strict Pintupi style of strong circles joined together by connecting lines - a style relating to people, the land and the Dreamtime.

In 2008 Ronnie was listed as one of the 50 Most Collectible Artists by the Art Collector Magazine.
ART


(Click on link(s) below to see painting details.)
Additional artist information unavailable at this time