Dorothy Napangardi, © Mike Mitchell, Muk Muk Aboriginal Art, Alice Springs, NT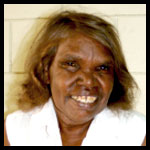 Dorothy paints her country "Mina Mina", a major ceremonial site at Lake McKay in the Tanami Desert of Central Australia. The site of Mina Mina is made up of two enormous claypans that rarely fill with water. When it rains and the water soaks into the ground, small areas of earth dry out at the edges, becoming delineated with salt. The lines of white dots represent the salt crystals.

USD $6000
Dorothy paints her country "Mina Mina", a major ceremonial site at Lake McKay in the Tanami Desert of Central Australia. The site of Mina Mina is made up of two enormous claypans that rarely fill with water. When it rains and the water soaks into the ground, small areas of earth dry out at the edges, becoming delineated with salt. The lines of white dots represent the salt crystals.

USD $8500
Dorothy Napangardi is a Warlpiri woman from Mina Mina, located near Lake McKay in
the Tanami Desert, north of Yuendumu in Central Australia. 'She is regarded as one of
the leading artists of the contemporary Aboriginal Art movement with her works featuring
in exhibitions throughout Australia, the USA and Europe.
Dorothy has won numerous art awards. in 1991 she won the Best Painting in European Media,
8th National Aboriginal Art Award and the Northern Territory Art Award in 1998. In 1999
she was "Highly Commended" for the 16th National Aboriginal and Torres Strait Islander
Award and in 2001 Dorothy won the 18th Telstra National Aboriginal & Torres Strait
Islander Art Award.
Dorothy Napangardi's paintings adorn the walls of institutions such as the Linden Museum in
Stuttgart, Germany and the Kelton Foundation in Santa Monica, USA.